Review Detail
4.5
7
0.5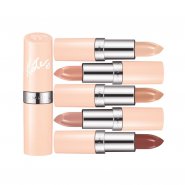 Lipsticks
October 23, 2015
171
I bought this a while ago and I have been loving it. I got the dark nude, no48 I think it is and I totally love it. It has that Kylie Jenneresque look about it.
It glides on smooth and stays put for some time without becoming dry and gross. As far as lipsticks go, it's beautiful to look at and to wear. It is comfortable on the lips which I find quite important. No one wants to feel like their lips are being sucked dry and flaking.
I think there is a colour for everyone dark skinned like me and light skinned like my sister.
Go on, try it.
Product Recommendation
Would you recommend this product to someone else?
Yes
Would you repurchase this product?
Yes
Comments
3 results - showing 1 - 3
Im obsessed with nudes. Definitely gonna try this.
This collection looks amazing ahhh need these in my life! ?
In reply to an earlier comment
Get it! I promise you will not be making a mistake =) I love it so much
3 results - showing 1 - 3