Comfitex Teenz Cotton Soft Maxi Pads, Scented or Unscented
Comfitex Teenz Cotton Soft Maxi Pads, Scented or Unscented
Hot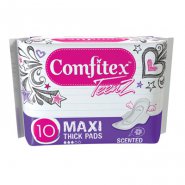 The Comfitex Teenz Soft Maxi Pads are smaller and designed specifically to fit a younger woman's body. They are discreet but still thick enough to give you the best protection, with a cotton soft cover and wings to ensure a snug fit without movement or twisting. Choose between scented and unscented variants. 
User reviews
Scented comfortable protection
I was indeed impressed with this as is a maxi pad however it's discreet enough to wear with everyday clothes. The scent is rather pleasant but not overwhelming, and it's suitably designed for teens. I definitely recommend this product to others, even though this is not my usual brand I will definitely be using it again.
Product Recommendation
Would you recommend this product to someone else?
Yes
Would you repurchase this product?
Yes