Comfitex Cotton Soft Ultra Pads, Scented or Unscented
Comfitex Cotton Soft Ultra Pads, Scented or Unscented
Hot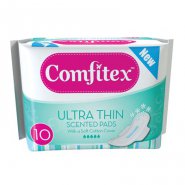 The Comfitex Cotton Soft Ultra Pads havelim and discreet design, so that you feel completely comfortable while wearing them. A cotton soft cover is gentle on your skin, while wings ensure a snug fit without movement or twisting. Choose between scented and unscented variants. 
User reviews
Love it! It sticks on my pantie without overlapping its really easy to disposed of it and I used on my heavy flow days but yet the absorption of the product was extremely effective. I usually utilize tampons because the pad wings creates irritation but this product is really sensitive and irritation free. Easy to slip in your handbag looks really beautiful and will most definitely recommend it to anyone.
Product Recommendation
Would you recommend this product to someone else?
Yes
Would you repurchase this product?
Yes