Clicks Pure Essential Oil Lavender
Clicks Pure Essential Oil Lavender
Hot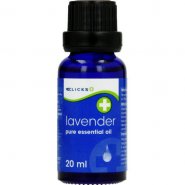 Clicks Pure Essential Oil Lavender is extracted from Lavendula Angustifolia and is known to be calming and soothing to the body and mind. It may assist with sleeplessness and may help reduce severity of burns and scarring.
User reviews
This is an awesome and best for a long tiring day at work ...I just soak myself in the tub with some lovely bath salts and Iavender takes me to cloud 9.I just need two drops because it's sooooooo powerful nothing more or nothing less. I can fall asleep in my tub if my husband does not get me ...I have using this for years not just for my bath but I soak my rose petals and leave them in my bath,toilet,room cupboards...It leaves my home so fresh and earthly. ..love it...live it...breathe it and sleep on it ...must have in your home
Product Recommendation
Would you recommend this product to someone else?
Yes
Would you repurchase this product?
Yes