Review Detail
4.4
33
0.5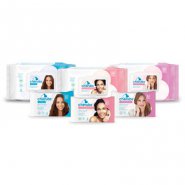 Cleansers, Washes, Soaks
October 02, 2017
207
Great quality facial wipes at an affordable price
(Updated: October 03, 2017)
I received a pack of 24 and pack of 60 of the oily/combination facial wipes and these are specifically suitable for my skin type. I've used it twice and love how effective they are in removing makeup. I must, however, mention that they're not the best to use for removing waterproof mascara but it's waterproof mascara after all so I wasn't expecting it to do so with ease. These wipes feel really soft on the skin and leave the skin feeling soft and hydrated.

I also received a pack of 24 of the sensitive/dry skin facial wipes as well as the normal facial skin wipes. I do have sensitive skin but not dry at all so I'll give these for my mom to try out. I will definitely give the pack for normal skin a try to see how well they work.

What I love about these wipes is that they are all infused with extracts for different skin types and needs. These are ingredients that are known to work amazingly well for the different skin type. EG. The sage extracts in the oily/combination wipes is an amazing ingredient that is known for its regenerative properties. You're guaranteed smooth, flawless and radiant skin with continuous use. This is why I'm so excited to see the difference in my skin after using these wipes for a couple of weeks.
Product Recommendation
Would you recommend this product to someone else?
Yes
Would you repurchase this product?
Yes
Comments