Review Detail
4.1
10
0.5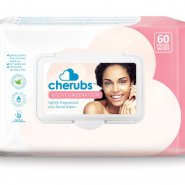 Cleansers,Toners,Washes
September 29, 2017
125
Cherubs Facial Wipes (1 WEEK OF USE)
I've used this product on 1 day this week and I must say I am impressed. I used it specifically to try it as a make-up remover first. I wore make-up on 1 day this week and I was excited after attending my event to try the Cherubs Facial wipes product.

The easy to use 'clip lid' heightened my level of excitement. Most of the time when I use make-up remover wipes, I pull out 2 or 3 wipes instead of 1. This leaves me frustrated attempting to put the wipes I don't need back into the packaging. I am happy to report that with the design of the Cherubs packaging I can pull out exactly 1 facial wipe at a time, YAY!

The next amazing thing about this product is the scent. You would have to try it to believe it, it smells absolutely divine! Lastly, but most importantly, the Cherubs facial wipes were effective in removing my make-up. I usually get worried about my eyes getting irritated when removing my eye make-up, but this product was friendly and effective.

I am excited to use the product as a daily cleanser in the coming week. I have high expectations and I do believe the product will deliver.
Product Recommendation
Would you recommend this product to someone else?
Yes
Would you repurchase this product?
Yes
Comments