Review Detail
4.1
10
0.5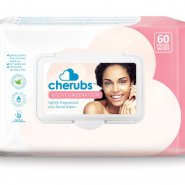 Cleansers,Toners,Washes
September 29, 2017
125
Cherubs Oily/Combo Skin Review | Amanda Klaas
How excited I am to be using these facial wipes!

a) they smell heavenly
b) effectively remove all traces of make-up

The best part? The easy flap lid!
locks in all the moisture & is so easy to use.
Product Recommendation
Would you recommend this product to someone else?
Yes
Would you repurchase this product?
Yes
Comments