Review Detail
4.1
10
0.5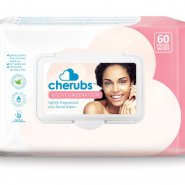 Cleansers,Toners,Washes
September 29, 2017
183
Cherubs Facial Wipes (1st Impressions)
(Updated: October 06, 2017)
I have finally received my goodie pack of Cherubs products and I must say I am extremely excited to try the 'Cherubs Facial Wipes'. I am a fan of make-up and I wear make-up at least 3 times weekly. What I look for in a good facial wipe is effectiveness in removing my make-up, and of course I want my skin to still feel hydrated after use. I am waiting in anticipation to see if the 'Cherubs Facial Wipes' range will do just that.

I know 'Cherubs' to be a trusted baby wipe brand and so I am under the impression that the product will treat my face with gentle care, just as the baby wipes keep our little humans happy. I am obsessed with the new clip lid as part of the packaging of the facial wipes. This essentially means that each wipe will remain moist and ready to perform its job when called upon...No one likes a dry facial wipe. Thank you to Beauty Bulletin and Cherubs for allowing me the opportunity to try and review this product.
Product Recommendation
Would you recommend this product to someone else?
Yes
Would you repurchase this product?
Yes
Comments