Review Detail
4.1
10
0.5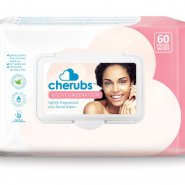 Cleansers,Toners,Washes
September 29, 2017
183
Gentle cleanser and makeup remover in one
I was super excited for this package and when I received it, I immediately gravitated towards this specific pack. I have an Oily to combination skin type so I was very keen to see how well these will work.
The only other time I recall seeing this brand was with a baby wipes campaign so I was quite excited to see that they have a cosmetic facial wipe range that has all different skin types covered.

I received my parcel 2 days ago so I've had some time to test it out and give a first impression.
The packaging is nothing fancy, but quite simple yet durable, so you don't have to worry about the outer packaging tearing up and resulting in the actual facial wipes drying up.

The wipes come in different variants as well as a small pack of 24 and a larger pack of 60. The pack with 60 has a very nifty clip lid that seals closed securely. I really love this feature because it prevents moisture loss.

When you open the seal you immediately get a whiff of this stunning subtle fragrance. I love how tranquil this smells. There's nothing worse than having a harsh smell especially if it's a product you use at night. This just soothes the senses.

What I love most about these wipes is how soft the actual material feels on the skin. They are biodegradable, alcohol and paraben free and contain unique extracts such as lemon, ivy and sage that is specifically suited for oily to combination skin types.

I'm so far pleasantly surprised by how well these work to remove makeup and I look forward to using them for the next few weeks to see if there's a noticeable difference in my skin because they are infused with ingredients that provide many benefits to one's skin.
Product Recommendation
Would you recommend this product to someone else?
Yes
Would you repurchase this product?
Yes
Comments