Review Detail
4.1
2
0.5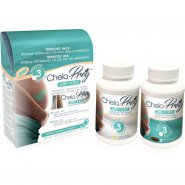 Health and Wellbeing
July 27, 2017
128
For the first two trimesters I was using Preg-Omega which is widely recommended by all obstetricians, I found swallowing 4 massive tablets after breakfast a bit hard and felt that if i hadn't eaten a proper breakfast they made me feel quite ill.

Since starting the Chela-Preg pack I have had no side effects, the tablets are coated so they are easy to swallow and they are split into morning and evening doses. The packaging is super cute and easily identifiable by different colours for each trimester.

So far so good, it will be interesting to see how long I will remember to take the evening dose. Pregnancy brain is a real thing guys!
Product Recommendation
Would you recommend this product to someone else?
Yes
Would you repurchase this product?
Yes
Comments