Chela-Preg Pre-Natal Trimester 1
Chela-Preg Pre-Natal Trimester 1
Hot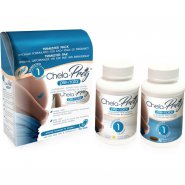 The new Chela-Preg Pre-Natal trimester packs have been specially formulated to support your body at each stage of pregnancy, with a unique day and night dose. 
Chela-Preg Pre-Natal Trimester 1 contains 25 micronutrients that are essential for the optimal growth and development of your placenta and foetus.
DHA-omega 3 helps to boost your red-blood cells and supports the development of your placenta, while Vitamin B6 helps to reduce morning sickness. Ferrochel, a non-constipating chelated iron, helps your body to make extra red blood cells that carry oxygen in preparation for your baby's metabolic needs. Trimester 1 also contains Quatrefolic, a natural 5-MTHF folate form of acid, that is essential for spinal cord closure.
Take 1 tablet in the morning and 1 capsule in the evening, after meals. 
User reviews
There are no user reviews for this listing.