Review Detail
4.1
53
0.5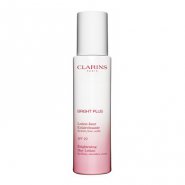 Moisturizers,Day Creams, Night Creams
June 26, 2015
376
Clarins for bright skin, that's right!!
Sometimes your skin is great, no acne, no oily skin , no breakout but it's just not bright.. seems too dull and for that kind of skin you deserve to glow. This is my mother inlaws ultimate skin care master product.. she looks flawless for a grandmother and I've always wondered how she does and heyyy? Tada!!! Turns out clarins bright plus is just part of her daily skin routine. It gives you a flawless look, you just naturally glow and skin looks brighter and lighter . I've never had a problematic skin besides minir breakouts but i've had dull skin overtime because of not using sunscreen all the time. So this product is greata as it has 20spf to protect you during the day. Most of the time when u put some sunscreens you end up looking dull and shiny so it's always better to go for a product that can get your skin to look brighter and also protect you from harmful uv rays.

For students I won't lie it's quite pricey.. but you will know that it's worth it as it delivers what it promises.
Product Recommendation
Would you recommend this product to someone else?
Yes
Would you repurchase this product?
Yes
Comments