Review Detail
4.1
53
0.5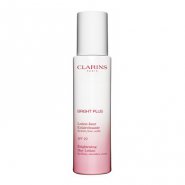 Moisturizers,Day Creams, Night Creams
June 26, 2015
376
Clarins Bright Plus Brightening Day Lotion SPF 20
This has to be my favorite moisturizer to date. Not only will it give you an even and radiant skin tone but it will leave your skin super smooth and soft. The SPF 20 it is a bonus too but I still use my normal sunscreen over it for more protection. My pigmentation hasn't completely vanished but I'm sure with continued use I'll be seeing greater results

I will definitely repurchase this product, it's value for money to me because the bottle is bigger and should last a really long time, plus it does what is says my skin really hasn't looked this great in a long time. Plus your make up glides on effortlessly on top of this moisturizer. It's a winner for me.
Product Recommendation
Would you recommend this product to someone else?
Yes
Would you repurchase this product?
Yes
Comments