Review Detail
4.1
53
0.5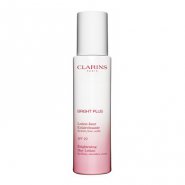 Moisturizers,Day Creams, Night Creams
June 26, 2015
376
Clarins Bright Plus Brightening Hydrating Day Lotion SPF 20
I have been looking for a complexion repair type day lotion and shopped around a little bit using testers. The one I found to be the most effective was this Clarins Bright Plus Hydrating day lotion. It has really left me with the desired result of a bright and even skintone and has really done wonders for fading some very nasty dark spots I had. I absolutely will be buying a full size of this product. I really love that it also has a decent SPF in in and it is not greasy at all. It is light but hydrating. Perfect for me as I really dislike a greasy feel on my face. It is a bit pricey but it really lasts long. I managed to get about 10 days out of just 3 samples so a full size will be worth the spend.
Product Recommendation
Would you recommend this product to someone else?
Yes
Would you repurchase this product?
Yes
Comments