Review Detail
4.1
53
0.5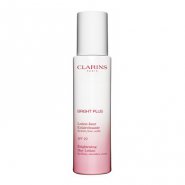 Moisturizers,Day Creams, Night Creams
June 26, 2015
376
CLARINS BRIGHT PLUS: BRIGHTENING HYDRATING DAY LOTION
When I started using this Brightening Clarins range, I felt a bit like I was cheating on my old skincare products. But I didn't need to feel bad. Me and 'Saloncare' weren't exclusive. Anyway, Clarins came along and swept me off my feet with its stylish packaging and sexy pump action. So we went on a few 'dates' - mostly in the mornings - and i think I'll probably keep Clarins in my life.

Here's why:

It's smooth and light. It smells great. It's gentle. Caring. Doesn't smother me due to its handy measured pump. It loves me and with SPF 20, really protects me.
Above all, it makes me feel good and look good... which is what choosing a skincare partner is all about.
If there was one gripe I have with it, it's something I'd almost certainly never say about a man - but it could possibly be a bit too rich for me. I sometimes felt my skin was a bit oily a few hours after using it but hey... no one's perfect.

Product Recommendation
Would you recommend this product to someone else?
Yes
Would you repurchase this product?
Yes
Comments