Review Detail
4.1
53
0.5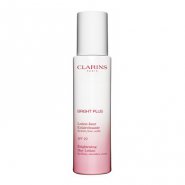 Moisturizers,Day Creams, Night Creams
June 26, 2015
376
Clarins Bright Plus Brightening Hydrating Day Lotion SPF 20 Final Review
This day cream makes my face more & more beautiful every day. I am one that applies Make-up on a daily basis & I never thought that your base products could have that much impact on your make-up. Every morning after applying this Day cream, i would continue to apply my make-up. When I look at my face in the mirror I am stunned @ the beauty of my skin shining through! It is not oily & it is not dry either.. It looks healthy & my make-up looks better on my skin. At first I had break-out but I gave it time to work through & I am now happier than ever with the results. I will continue using this product!
Thank you Clarins!
Product Recommendation
Would you recommend this product to someone else?
Yes
Would you repurchase this product?
Yes
Comments