Review Detail
4.1
3
0.5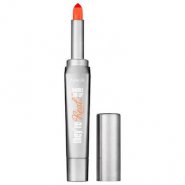 Lipsticks
April 18, 2017
78
I found the product to be highly pigmented, with a smooth glide. It does have 2 complimentary colors that glide on, 1 as a liner and the other as a lip color. I did find that since my lower lip is a little thicker than my upper lip the lipstick did need a bit of help creating the right ombre look.

The lipstick lasts 2-3 hours of eating and drinking. you tend to top up often if you out at an event. The product is not for a daily office wear, as the color wont last the entire day.

Its a product worth trying but not a product I'd always buy.
Product Recommendation
Would you recommend this product to someone else?
Yes
Would you repurchase this product?
Yes
Comments