Review Detail
4.5
10
0.5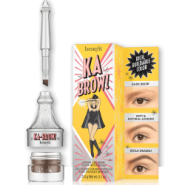 Mascaras, Eyebrow Pencils
July 28, 2016
129
I really love this product and they have extended the shade range quite beautifully.

This will not dry out on you. I have had mine for a while and I still have plenty left as only a smidge is used at a time.

It is pricey, but the cool thing is that it comes in either a full / a mini size. Hella pigmented and easy to apply. The brush is okay, but I prefer my MAC 208.

Definitely worth checking out.
Comments