Review Detail
4.7
11
0.5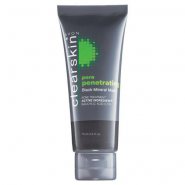 Face Masks
September 11, 2013
177
The first time I applied it I was impressed by how fast it dried and how good it felt on my skin. After I rinsed the product off I could literally feel the difference it made on my skin when I touched it. I loved how my skin glowed and how radiant it looked.

The clear skin Black mineral mask is everything!

Not only is it affordable but it is extremely efficient.

I am hooked.
Product Recommendation
Would you recommend this product to someone else?
Yes
Would you repurchase this product?
Yes
Comments