Review Detail
4.5
15
0.5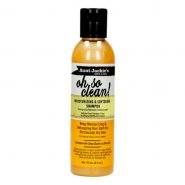 Shampoos, Dry Shampoos and Cleansers
December 20, 2017
144
Oh So Clean Moisturizing & Softening Shampoo
Affordable and effective is how I can describe this shampoo and those are some of the reasons why I always repurchase this shampoo. It's also free from parabens, harsh sulphates, mineral oil and petrolatum, so YAY!!

After two washes, it leaves my hair super clean and smelling really good. The shampoo has that signature Aunt Jackie's playful and pleasant scent.

A little goes a long way so be careful not to overuse it.

With frequent use, I can say that it does contribute to my hair's moisture.
Product Recommendation
Would you recommend this product to someone else?
Yes
Would you repurchase this product?
Yes
Comments