Accessorize Signature EDT
Accessorize Signature EDT
Hot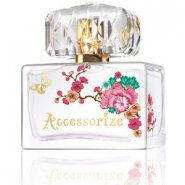 Accessorize Signature EDT is a floral fragrance with notes of bergamot, lychee skin, cherry blossom petals, violet, rose and vanilla.
User reviews
Accessorize Signature EDT
To be very honest, I only purchased this scent for the bottle. It is gorgeously decorated with cherry blossoms and gold accents.

The scent is very powdery and a bit overpowering. I get a lot of the lychee, but the other notes are terribly masked.

This is definitely a scent for older women. So, if you are not into "granny" scents - this is not for you. It takes a while for this to settle and not be so overpowering.

It does last all day and the sillage is really good, but up close it is a little too much. I would honestly not repurchase.

However, if you are a collector - this bottle looks beautiful on display.
Product Recommendation
Would you recommend this product to someone else?
Yes
Would you repurchase this product?
No