Spalicious Limited Edition Gluhwein Scrub
Spalicious Limited Edition Gluhwein Scrub
Hot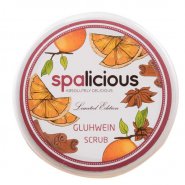 A kaolin based sugar scrub which stimulates organic processes within the skin by re-mineralising it and gently removing dead and dry skin cells, whilst providing
moisture to the skin. The skin is left feeling soft and conditioned. Vigorously mix the sugar and kaolin cream emulsion together to ensure that the sugar granules
are well mixed into the cream, apply onto dry skin and gently rub against the skin.
Then add a little water to emulsify and now vigorously rub the mixture against your skin to create a slight reddening of the skin. Rinse off with warm water and you
will be left with a radiant and smooth skin!
Unique Ingredients:
Kaolin Known as "China Clay" originates from natural
claylike mineral (Silicate of Aluminum) and is
composed of silica, iron, magnesium, calcium, sodium,
zinc and other minerals. Excellent absorbent qualities
and skin remineraliser.
Sweet Almond Oil Moisturises, improves elasticity, revives and
softens the skin.
User reviews
SPALICIOUS LIMITED EDITION GLUHWEIN SCRUB
Can I say MAGIC?!!! Ah I loved this so much!! It was so moisturizing!! It wasnt harsh like some scrubs are. worth the buy
Product Recommendation
Would you recommend this product to someone else?
Yes
Would you repurchase this product?
Yes