Visia Skin Analysis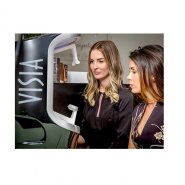 Services
Average Price
Available at Dr Nerina Wilkinson. RSP: R1100.00 (full analysis including the VISIA and a detailed discussion with the aesthetic doctors)
The Visia Skin Analysis is a photographic imaging system specially designed to help professional aestheticians objectively determine the state of your skin to help guide them in finding the best skin care regimen and skin care products to address your unique skin needs.
The Visia Skin Analysis technology measures surface and sub-surface skin conditions, therefore revealing the extent of sun damage, wrinkle development, pore texture, pigmentation problems and UV spots.
User reviews
There are no user reviews for this listing.