Mesoestetic Cosmelan Treatment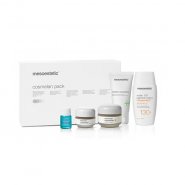 Services
Average Price
Available at Dr Nerina Wilkinson. RSP: R9750.00
Mesoestetic Cosmelan Treatment is a depigmentation method trusted by thousands of aestheticians and millions of patients worldwide used for removing hyper-pigmentations caused by melanin while simultaneously regulating the over-production of melanin in melanocytes. This corrective and regulating action helps stop and control the reappearance of new spots therefore achieving short and long-term results to keep hyper-pigmentation under control.
More than just a treatment the Cosmelan is a complete skin care method, inclusive of a single peel session followed by a strict home maintenance skin care regimen. The maintenance period occurs over a 12-month period in order to achieve the best results and prevent the reappearance of spots.
User reviews
There are no user reviews for this listing.