White Glo Power Brush Toothpaste
Hot
May 18, 2016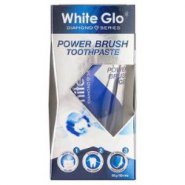 Product Info
Where to Buy:
R69.95 at Clicks and Dis-Chem stores
White Glo's new toothpaste is the world's first advanced whitening toothpaste developed especially for use with powered toothbrushes. It is formulated to take advantage of the high speed motion of powered toothbrushes to deliver the ultimate whitening results.
User reviews
There are no user reviews for this listing.