Jordan Kids Toothpaste (0-5 years)
Hot
April 08, 2019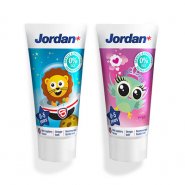 Product Info
Where to Buy
Most local retailers - R21.99 (50ml)
Jordan's amazing-tasting mild fruity flavoured toothpaste is made with your child's much anticipated new permanent teeth in mind. It contains the exact amount of fluoride for your growing child and 0% SLS. It's packed with the taste that kids love and the effects that adults expect.
User reviews
The kid loves it!
My little one loves this. She enjoyed the mild taste that did not burn or create an unpleasant sensation in her mouth. She was also impressed with the little bird that wore a crown (printing on the packaging)
the price is slightly steep compared to other brands but i will purchase this again!
Product Recommendation
Would you recommend this product to someone else?
Yes
Would you repurchase this product?
Yes
Was this review helpful to you?