Natural Pink Lips
Hot
July 22, 2014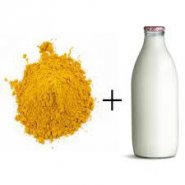 1tsp of tumeric and a teaspoon or two of milk..
User reviews
DIY Naturally Pink Lips
Sadly I'm one of the unlucky ones to be born with dark lips - not from smoking LOL.. There aren't many products on the market to achieve natural pink lips, but you can from two simple products found in your home.. Make a paste with the tumeric powder and milk.. Exfoliate your lips with a tooth brush then apply this paste on, leave for 5-8min then rinse of - it may tingle/burn a little.. You would see results instantly!! Continue with this routine twice a week till you achieve the pink you desire :)
Was this review helpful to you?