Mandy's Microwavable Peel-off Hot-wax for Legs and body
Hot
February 24, 2011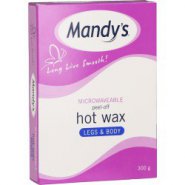 MICROWAVEABLE HOT WAX - 300G: For legs and body
This microwaveable peel-off hot wax is a quick and effective means of removing short, coarse hair and therefore perfect for leg, underarm and bikini areas. As the wax surrounds each hair, the warmth of the wax opens the pores and allows for the wax to be gently peeled off, removing the entire hair and root.(According to Leechem.co.za)

The wax is thicker than film wax, its a honey colour and comes in a flat plastic tray-type container.
Its much cheaper than the film wax in the Mandys range.