Review Detail
4.9
9
0.5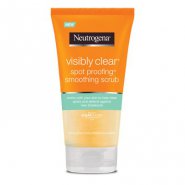 Scrubs, Exfoliators, Peels
July 12, 2017
188
WOW, WOW, WOW. I am very fussy when it comes to the scrubs I use on my face because I have a very oily T-zone and acne-prone skin, if the scrub is too intense or rough it makes the acne worse by spreading it. That is, however, not the case with the Neutrogena Spot Proofing Smoothing Scrub, yes the granules are quite small and sharp but it doesn't tear, spread or harm your skin in any way. I have been using it for a week, every evening and my skin feels refreshed and new after each use. Highly recommend to anyone looking for a good scrub to get rid of those dark spots, not worsen your acne or to get rid of dead skin.
Product Recommendation
Would you recommend this product to someone else?
Yes
Would you repurchase this product?
Yes
Comments