Smashbox Primer - blemish control
Hot
July 28, 2014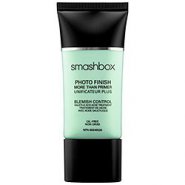 Product Info
Where to Buy
all good stores
Banish blemishes! This perfecting primer treats breakouts, provides oil-free hydration and keeps skin clearer over time. Clinical testing showed women had clearer skin in just 2 weeks. Contains 2% salicylic acid.
Remember, this primer is breathable, so you can layer it under your foundation without worrying about breakouts!
This product is best for:acne skin, dimish dark spots, oily skin, everyday wear, gel consistency, glides on smooth, always before applying makeup, wear it on its own, everyone, hide pores
User reviews
smashbox primer
This is a primer that has so many functions that it is worth the price . It targets & prevents breakouts , lightens dark spots, blemishes & make pores appear invisible. It's meant for oily skin which I do not suffer from but I do like the matte look it gives my foundation . I've tried all types of foundation over this primer & it still worked amazingly for me.

It's a gel like cream which glides on over skin and sets a great canvass for make up,making me look flawless . It's breathable so it can be layered on if you want . I use it over moisturizer & always make sure that my moisturizer is properly absorbed before applying it .


Product Recommendation
Would you recommend this product to someone else?
Yes
Would you repurchase this product?
Yes
Was this review helpful to you?
Awesome product - but not for me
I was so excited to try this product as I've read about Smashbox but never had a chance to try the products. I also don't usually use a primer so I was keen to see what the difference would be.

It's a lovely light cream, almost a gel in texture - reminds me of the cream serums one gets nowadays. It has very little smell and goes on easily. I found I had to use a fair amount to cover my whole face.

I was rather confused by the instructions which say: "apply to bare skin" - not sure if this meant over/under moisturiser? I tried both ways and really didn't see any difference.

Now for the less than positive side...
I really couldn't see any difference in how my face looked after applying it. And no difference to wearing foundation with or without it. I definitely haven't seen an improvement in blemishes, dark spot etc.

I also found that after a couple of days of using it, I got this bumpy skin breakout which I seem to get when a product doesn't agree with my skin. I was rather devastated, but persevered with the product anyway.

My skin has calmed a bit, but I have broken out with a couple of big pimples in the last couple of days. I'm very disappointed. Having used the Clinique blemish control clearing gel for the last 5 weeks, I've had a clear skin, even during the hormonal times. I decided to use this product instead to give it a fair chance. But I'm definitely back to the clinique!

So, all in all, it is a lovely product but it doesn't seem to do anything for me. I don't think I'll continue using it now that the trial is over - there doesn't seem much point and it doesn't seem to agree with my skin.


Was this review helpful to you?
Perfect Primer
Imagine a primer that not only give your make up the perfect opportunity to look and feel flawless but treats and hydrates your blemish prone skin!! Dream no more. Smashbox photo finish blemish control primer is the answer.

Unsure if this product would work for my very oil and blemish prone skin, I launched into a very skeptical trial. Wow - was I wrong. Not only have I NOT had any new blemishes but my skin is gently hydrated, oil free and my make up is smooth and easily applied. I love the FEEL of my skin after application. Almost feels instantly hydrated, refreshed and slightly tingly.

I am so glad I got to review this product as I would never have tried it on my own.
After using it this weekend, I looked back at some pictures and was impressed at the general look of my skin. Definitely looked more hydrated and , dare I even say, flawless. My skin is FAR from flawless so "Yeah" for great skincare products.

It is a pricey product and a bit steep for my pocket but is something I would consider splurging on.

Simple on the outside but super smart on the inside.
What a great idea Smashbox!! A primer for every need. Two in One takes on whole new meaning :)
Was this review helpful to you?