Revlon Photoready Skinlights
Hot
March 20, 2014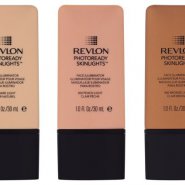 Product Info
Where to Buy
Department stores

Get a healthy glow in any light.
Banish dullness and even out skin with light capturing crystals and photocromatic pigments for a lit from within look.
Available in the following shades:
Bare Light
Peach Light
Pink Light
Bronze Light
User reviews
Revlon Photoready Skinlights
This product is beautiful! I love glowing, luminous finish to skin, its light and effective for everyday use as well as for more dramatic looks ie. evening makeup, special occasion, photoshoots.
Gives a subtle glow, I like that there are 3 different shades, which creates play for different skin tones and different looks.
I love mixing this into my foundation and BB cream, but also apply it to the cheekbones and hi-lighting areas.
Really great product - good buy
I used this product along with my bb cream as i wanted a natural yet "dewwy" effect. Was really impressed by the quality and staying power through out the day. My face appeared fresh and even-toned with natural highlights in the right places in photos taken.
Bronze Light
What a great product!

Revlon's Photoready Skinlights is a face illuminator which is meant to be applied to the areas of your face that receive the most light. It comes in a reasonably sized lightweight squeeze tube. The product was easily absorbed by my skin which gave the desired effect without visible product sitting on my skin. So Bronze Light really does cater to darker skin tones and blends in very well.

There is a little shimmer and it really did give my dull skin a refreshed look and a glow. It is priced at R189 but a little goes a long way and it is definitely worth it.