L'Oreal Illuminating Powder
Hot
October 08, 2014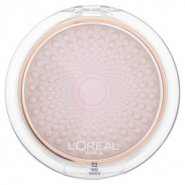 Product Info
Where to Buy
Dischem
Clicks
Leading retailers and L'Oreal counters nationwide
L'oreal's new illuminating powder offers mattifying abilities that are long lasting, while giving you that natural glow.
User reviews
Mattifying Allure

L'Oreal have launched their very first illuminating powder in 2 shades, and I was lucky enough to win it, in 02 Rose. Summer is all about creating that radiant look, without looking greasy.

I haven't really had much of a chance to use an illuminating powder before, so was really excited to give my cheeks a new flush of colour and shimmer! I kind of expected it to have more of a highlighting pigment to it - a little shimmer - but this particular powder was more mattifying, enabling you to use it as an all over powder, to set your liquid foundation. When used around your cheeks and the bridge of your nose, it creates a super gorgeous and healthy glow. I suffer from oily skin and was quite impressed with the longevity of the powder. I would say that it lasts about 4 hours before needing a touch-up, as all powders do. This should not be confused as a highlighter, it is a mattifying powder used to create a pearlescent shine. There a few on the market that boast the same claims but I found that they cost a whole load more! I really like how this powder adds just enough colour, leaving you looking fresh all season long.

Was this review helpful to you?