Inglot HD Illuminating Loose Powder: Shade 45
Hot
April 22, 2014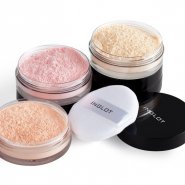 Product Info
Where to Buy:
Inglot Counters
Illuminating loose powder with soft flecks of shimmer for both a day time, as well as a night time look. Retails at R280
User reviews
Dewy Highlighter
I've been shopping around for highlighters recently and just couldn't find one which compliments and skin tone and gives my skin that dewy, radiant look.. After stopping at the inglot counter and trying the pink shade on, I couldn't go home without this product, it's beautiful! I apply this product with a contour brush, above my blush and on the bridge of my nose! It's just so perfect and completes any make up look, a must have!
Product Recommendation
Would you recommend this product to someone else?
Yes
Would you repurchase this product?
Yes
Was this review helpful to you?
HD Illuminating Loose Powder
So I am addicted to the beautiful shimmer look you get with any illuminating powders or liquid illuminators, this Inglot HD Illuminizing loose powder was more of a splurge product which I wanted as soon as it hit the shelves, before I buy a splurge product, I always test it out, so I tried out shade 45 at the Inglot counter.

Shade 45 is a beautiful golden shimmer powder which has soft flecks of gold shimmer. I had a full face of make up but with nothing illuminating on my face, the friendly consultant dusted off some of this magical shimmer powder all over my face, surprisingly it was visible but in a beautiful subtle glowing way, perfect for any day look! I asked her to immediately give me one of these gorgeous powders in shade 45.

When I got home... It was time to play with my new toys! The packaging of this product is just gorgeous, it comes in a sleek semi matte packaging box with all the details about the product as well as the word 'HD' in embossed gold, screams some class to me! Once you've opened the box, there is a round little tub which is see through (you can see the shimmering powder) with a classic polished black lid with "INGLOT" printed in white. I'd say the entire tub can fit in the palm of my hand, which makes it quite compact and easy to carry around.

Once you open the lid (screw on lid, so I'd say no product spillage for you if you're traveling) I found an applicator, this has to be the softest, most velvety feeling applicator I've ever seen... Just by looking at this applicator, I can tell you, this product is a luxurious one! The container has 12 holes to allow product to come through for use, I'd recommend keeping the sticker to seal the container after use because sometimes if you're traveling you wouldn't want extra to stay in the container.

So I haven't used the applicator to apply this Illuminizing powder because I'd say it would be recommended more for using the powder on your body. I used a fluffy powder brush to apply to my entire face for a beautiful glowing look. This powder has such a fine texture, it feels light and absolutely invisible on skin, yet you always have a radiant and glowing appearance, I'd day it lasts almost the entire day on your face, because I've used it for almost a full day.

You can use this HD Illuminizing loose powder has a full face illuminator (for day time use as well as night time use), as a body illuminator or even to highlight your face and use on cheekbones and places where the light catches on your face. So I'd recommend you purchase this product. The actual product is only 4.5g which might put you off, but you really need a little to give you a gorgeous glow so basically this product will last you a good couple of years! Plus, if gold isn't your colour, this product is available in a few shades.
Was this review helpful to you?