Best one out there for the money
Hot
May 28, 2014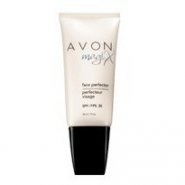 Product Info
Where to Buy
Got mine at my bestie who is an Avon rep
I have purchased almost every
brand of " makeup base " possible and finally found a winner. My foundation just glides on after using Magix. Some days I just use a little powder with great results over Magix. I will never change unless its discontinued.
User reviews
it really is magic
I purchased the avon magix face perfector after my friend recommended it to me. I was a bit wary of trying it as I was afraid of breakouts but I was pleasantly surprised when after using it I had not one breakout. It really created a smooth surface for me to apply my foundation and hid those fine lines and wrinkles like magic. I must say I get quite a few compliments when using the magix face perfetor and on more than one occasion I have been asked what foundation do I use to get the glowing smooth appearance I have. This is definitely a keeper for me!
Product Recommendation
Would you recommend this product to someone else?
Yes
Would you repurchase this product?
Yes
Was this review helpful to you?
Love this product
This stuff is great! It makes your make-up go on much easier. It helps your make-up just glide on. I have combination skin and it definitely makes my t-zone less greasy! I usually wear it under make-up however, if I'm going somewhere and don't want to wear make-up, I use this alone due to the spf 20. It gave my face a gorgeous matte finish that everyone noticed! And it took away the chance of my skin looking oily half-way through the day. I VERY RARELY ever find a product that I buy consecutively.


Was this review helpful to you?