Smashbox Step-By-Step Contouring Palette
Hot
February 10, 2015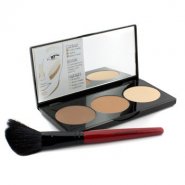 Product Info
Where to Buy
Smashbox counters nationwide for R 550.
A 3 step contouring palette from Smashbox.
User reviews
:)
I have been searching every where to find a contouring pallet - an dive only heard great things about this one - I cannot wait to get my hands on it!!
Was this review helpful to you?
Smashbox Step-By-Step Contouring Palette
This palette looks gorge. It would fit right into my handbag.
I always wanna cover up but I never have concealer...this would be such a lovely gift. wink wink.

I would love to try it out. I am sure it is a wonderful product to own.

Was this review helpful to you?
Smashbox Step-By-Step Contouring Palette
I am fairly new to contouring and there isn't exactly a wide variety of contouring palettes available to purchase in South Africa, so you can imagine my excitement when I was selected to review this product!

BB sent over this product about 2 weeks back, between now and then I have been playing around with it trying to 'contour' in the correct manner, I think I finally got the hang of it, but there is still definitely room for improvement!

My findings:

Packaging - Sleek black and compact with a large mirror and step by step instructions insert on how to contour the face. It can be easily slipped into you bag or clutch without taking up much space! As a total beginner, the insert proves to be some what helpful, but as I went along I found that the precise application as depicted in the insert is kind of useless. Everyone has a different facial shape, so will there for contour differently to achieve different effects! Needless to say I no longer pay any attention to the insert.

It comes with a really cute angled brush which is both a hit and a miss. It picks up product beautifully, but unfortunately when applying the product to the face it seems to be all over the place and the product fall out is horrible. When contouring you need to use a brush that will offer a more precise and controlled application. This is a good as a travel blusher brush, nothing more.

Product Formula / Application - AMAZING! This is a powder contour palette, the powders are buttery soft and HIGHLY pigmented! it picks up easily on the brush and blends really smoothly. There is unfortunately a lot of fall out which equals wastage! Due to the high pigmentation, do not be heavy handed as you will most likely spend the next hour trying to blend out streaks (as I found out in the beginning haha)

Results - After many failed attempts, I finally realised the usefulness of this product! I picked up weight and my face is a bit roundish which I hate! This totally helped to slim my face, especially around the jaw area and also made my wide nose appear a bit more feminine. All in all it really created a beautiful illusion of a slimmer face, it now takes me about 5 minutes to achieve!

Over all thoughts - I like it. I don't love it, I don't hate it either, I just like it. It has 3 shades, a darker shade for contouring, a bronzing shade to add a bit of warmth and a highlighter - as there are only 3 colours, I don't think that it will be suitable for every skin tone out there, probably more suited for fair to medium skin tones. I like the packaging, cute and does not take up too much space in my beauty box. I like the brush as a travel blusher brush, but nothing more. It definitely gave me the results I was after and is super handy for a total beginner.

I do think for what you are getting the price of R550 is a bit steep, but overall I do think that it is a good buy and a nice little investment. There are a few issues that I have with it (as mentioned above), but I am willing to over look those as it enables me to achieve a slimmer looking face in 5 minutes.







Was this review helpful to you?