L.A. Girl Pressed Powder and Puff
Hot
January 09, 2015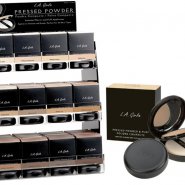 Product Info
Where to Buy:
R54.95 Dis-Chem Pharmacy
The L.A. Girl Pressed Powders are silky smooth, designed to reduce shine and provide an even and beautiful finish for the skin. Although coverage is buildable, L.A. Girl Pressed Powder formulas are lightweight meaning that your pores won't be clogged and the skin will be left feeling and looking natural and radiant. 
Available in 18 shades, perfect for all skin types and complexions and comes with a fluffy powder puff applicator.