Essence Hello Autumn - Multi Coloured Powder
Hot
August 07, 2015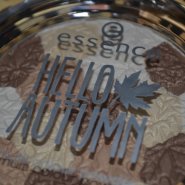 Product Info
Where to Buy
R69.99 Dis-Chem stores
Created to reflect golden leaves of Autumn, this multi-colour powder combines four gold and brown shades with a shimmering effect. 
User reviews
Essence Hello Autumn - Multi Coloured Powder
'm going to start off by saying, I absolutely love the Essence Trends which come out, because it is a chance to get some high end make up items, which look amazing, at a fraction of the cost. The most recent Trend which hit Dis-Chem and Clicks stores would be the Essence Hello Autumn, and I couldn't resist picking up the multi colour powder for myself.

This powder just blew my mind away, Essence Cosmetics really did justice to the "Autumn theme" by the powder having embossed prints of leaves, which where multi coloured in a pearly white, a golden glow and a beautiful bronze. This multi colour powder has a fine and subtle shimmer, which I adore because it gives skin a bright, radiant glow which looks natural.

As the previous blogger of Purple Sparklez, I'm sure you're well aware that I will choose anything with shimmer in it, so I accepted this multi colour powder with open arms. I use it everyday to highlight cheekbones, because this is the most natural glowing powder which I've used. It comes in the shade 01 Autumn & the city.

The multi colour powder comes in this sturdy see through compact, which I love because it really allows you to see the beauty of the design on the powder. I personally bought this powder only because it looked so gorgeous, and found out how amazing the powder actually was after using it. I haven't included a swatch in this review, however once you swirl the make up brush around the different colours, you end up with a golden glow colour, perfect to highlight skin and is subtle enough to use during the day.

So if you're looking for a shimmering powder to highlight and add a glow to skin, look no further, because this is a product perfect for all skin tones, is affordable but is unfortunately limited edition. I would really recommend you get yourself one of these Essence Hello Autumn multi colour powders. They retail around R59,00 if I am not mistaken.
Product Recommendation
Would you recommend this product to someone else?
Yes
Would you repurchase this product?
Yes
Was this review helpful to you?