Revlon Brow Fantasy Pencil and Gel
Hot
August 17, 2015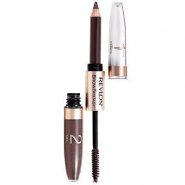 Product Info
Where to Buy
R120
Leading Pharmacies
Specifically developed to define, colour and set eyebrows, this pencil brushes on a sheer tinted gel to shape and set eyebrows. It is fragrance free, opthamalmologist and consumer tested and is suitable for contact lens wearers.
User reviews
Revlon Brow Fantasy Pencil and Gel
I bought this in the brunette as i felt the dark brown would be too dark for me. Works perfectly. The pencil could be better, its too chalky and breaks easily. the cap also falls off and isn't too secure.
The most impressive thing about this product is the gel! If only they could sell it separately, it is a brown gel that blends nicely and sets the brows.
Product Recommendation
Would you recommend this product to someone else?
Yes
Would you repurchase this product?
No
Was this review helpful to you?