MAC False Lashes Waterpoof
Hot
July 28, 2015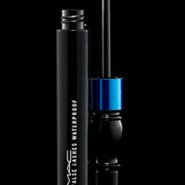 Product Info
Where to Buy
R230
MAC stores nationwide

Now available in a waterproof formula, this mascara and its false lash effect lasts for 12 hours even in the wettest conditions. A double-lush brush delivers twice the level of dark pigment and ensures easy application from root to tip. 
User reviews
Not so False Eyelash effect
To be honest, I may be too used to other mascaras with different effects , but when I tried this "false lash" effect , that's what i expected , but sadly , it dissapoints in that area , I'm completely convinced that whoever says this gives a false eyelash effect has clearly never tried any of Maybelline's line of mascaras. Not worth the price at all. But , yes , if you're looking for good waterproof mascara , this one will do.
Product Recommendation
Would you recommend this product to someone else?
No
Would you repurchase this product?
No
Was this review helpful to you?
MAC False Lash Effect Waterproof
Having owned the original MAC False Lash mascara - I was already aware of the amazing length and volume the thick, dark liquid provided.

Not only is this liquid pigment dark and rich - it also does not flake or loose its thickness over time due to its new waterproof nature.

The wand reminds me of the traditional mascara's of yesteryear - tightly packed bristles that are effective in applying the liquid and separating lashes - no gimmicks, no new developments, just something that works!

Compared to drug store brands this is a slightly more expensive mascara but well worth the price if you are looking for a mascara that delivers on its promises and continues to last!

Was this review helpful to you?