L.A Girl Immense Mascara
Hot
March 20, 2012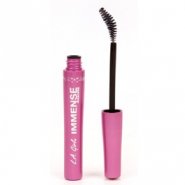 Packaged in a bright pink tube, this mascara is hard to miss! It's wand is curved, following the natural curve of the eye. The product is smooth and does not clump easily as it is not very thick.
User reviews
I originally tried this colour in "navy", testing it for a Beauty Bulletin product review. It is a great colour to bring our blue and green eyes, and is nice for a night out on the town! It can also be used with lighter eye makeup, particularly on blue eyes. I definitely prefer black though (having dark hair and green eyes), and like my dark smokey eye look, so will be purchasing this in a darker colour shortly! Definitely a great product :-)
Was this review helpful to you?
L.A Girl Immense Mascara is a really affordable mascara, but it also delivers on quality. As it is not too think, I found that it didn't leave huge clumps on my lashes. Instead, it glided on smoothly and in quite a think layer. Personally, I like my mascara to be thick, so the solution with this product would be to apply a second layer. It is also easy to use on the bottom lashes, and not difficult to reach the base of the lashes as the wand is curved so fit the natural curve of the eye. I would recommend this one!
Was this review helpful to you?