Eylure Brow Crayon
Hot
December 03, 2014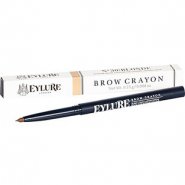 Product Info
Where to Buy
R 124.95 from Dischem pharmacies nationwide.



A soft, smudge-proof brown pencil enriched with Vitamin E and Rosemary Oil to create intense, long-lasting colour.
User reviews
No more scary eyebrows!
I've heard some people in the beauty industry make the statement that your eyebrows are like sisters, not twins, as no pair of eyebrows will ever be 100% symmetrical. In my case, my eyebrows are not sisters, not even distant cousins twice removed, but more like the two ugly stepsisters who never had any love lost between them. They are sparse, and I am a 'nervous puller' - meaning that my fingers would be in my brows whether I am fuming in traffic, or fiddling over a report. I go through eye pencils like I go through candy - fast, fierce, and the experience is never quite satisfying. And forking out R195 for a MAC pencil every other week? Na-ah!

Enter the Eylure Brow Pencil. Quality enough to be luxurious, affordable enough to be a can't-go-without makeup staple. I discovered this range in the aisles of Heaven ... I mean Dischem, and I know that I had to give it a go. The shades range from blonde, mid brown, brown, dark brown and black, so this tanned ginger was happy to discover that the mid brown doesn't look unnatural on her face. Because what's worse than no eyebrows? Big fat black caterpillar eyebrows when you have the complex of a porcelain doll/sheet/cloud.

The consistency is smooth and the crayon glides on easily. I am very pleased with the self-sharpening sleek pencil packaging - no more mucking around with pencil sharpenings exploding all over the bedroom floor as you take care of your morning face! The crayon is pigmented and the formula lasts, so there's no more of those 'what the hell happened to your eyebrows?!' situations.

Ladies, if you are looking for a terrific, affordable drugstore range that packs a punch and lives up to the hype, designed especially for lashes and brows, go trawl the aisle of your nearest Dischem right now!

Over and out, and kisses and peace,
Marelize
Was this review helpful to you?