Essence Lash Mania Reloaded
Hot
February 20, 2014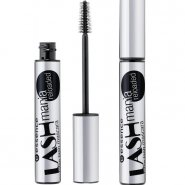 Product Info
Where to Buy
Clicks
Dis-chem
Mascara for incredible volume and false lash effect. Features an elastomer brush for effective application and ensures no clumps.
Ophthalmologically approved.
User reviews
Like falsies!
I have been using eyelash extensions for the past three years and have recently decided to give it a break, after using this mascara I doubt I will go back to extensions, its affordable and long lasting and makes my lashes look like they did with extensions!
Was this review helpful to you?
Lash Mania - Reloaded!
(Product courtesy of the beauties at Beauty Bulletin)

As the name suggests, this is a reintroduction and improvement on the original formula and packaging of Essence Lash Mania.

Here's a quick glossary:
Elastomer brush: the best definition I read was "a big fancy word that means rubber." Sorted.
Ophthalmologically approved: It is safe to use around your eye area.

Seriously about the brush though, the elastomer coupled with the design is quite effective. The star-shaped bristles are spaced nicely and picks up just enough of the mascara for application. You aren't faced with a gunky brush.

Without mascara- I look like I have no eyelashes. So this product was definitely going to be tested... and it passed. After the first coat, I could see the increase in length and by the second coat I had the 'false lash' look. You achieve the desired effect without having to apply a lot of the product. Of course, I was so amazed that I kept going! And by the fourth coat my eyelashes started getting clumpy and sticking together. I guess its the product's way of saying "Whoa! Easy on the hoochie eyes, lady."

It was easy to remove with a facial wipe and even with water, it came off with no irritation to my eyes.

WOULD I BUY THIS PRODUCT?
Yep-yep! I go through mascara quite quickly and I would definitely get this.
Was this review helpful to you?