Eylure London Texture No.117
Hot
May 11, 2015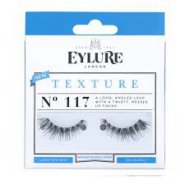 Product Info
Where to Buy
DisChem R54.95
A long angeled lash perfect for a night on the town. The osseled finish offers you a less dramatic look but with extra length and thickness. 
User reviews
Eylure London Texture No.117
I love this brand, because their lashes are really affordable & the variety of styles are quite vast.

I usually go for 117, 155 & 114 as all of them have a very thin natural lash band & they have quite the effect. I don't like anything too over the top.

I find these very easy to apply & super comfortable to wear all day long. When removed and cared for properly, you can get between 3 - 5 uses out of 1 pair.

Definitely recommend this brand!
Product Recommendation
Would you recommend this product to someone else?
Yes
Would you repurchase this product?
Yes
Was this review helpful to you?
Eylure London Texture No.117
These false eyelashes are easy to apply and don't feel like they are weighing your eyelid down. The texture it gives is fantastic.
Was this review helpful to you?