Avon Aero Volume Mascara
Hot
February 28, 2014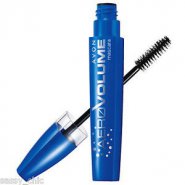 Product Info
Where to Buy
Avon Representative
Latest Mascara from Avon
User reviews
Great and powerful
I always enjoyed using Avon mascaras and this one is really amazing. I really advise for everyone to try and test it.
Avon Aero volume Mascara
Avon Aerovolume mascara promises clump-free, non-smudging mascara that does not weigh lashes down. It kept to all the above promises.
It is a light waterproof mascara which makes the lashes look longer. It has a nice brush which reaches all the odd and short lashes. Worth the R64.95 I've paid for it. Hurry, it's on special now.
Aerovolume for days!
Avon recently launched a new mascara. I know right… ANOTHER mascara. But having tried it, i must admit i get it.
I am blessed with pretty long thick lashes, so i find generally mascaras cake on them, and its just not a good look. But with Aerovolume i found it easy to apply, doesn't smudge easily, and adding a second coat just literally BOOSTS them to another level.
The other nice thing is it doesn't feel like you have mascara on your lashes. They look and feel natural and gorgeous… Try it!!

Lash extensions for the same look are about R500 so at R65 - its a bargain!