Almay One Coat Triple Effect Mascara
Hot
August 14, 2015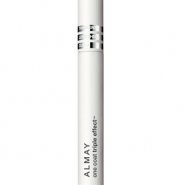 Product Info
Where to Buy
R 165 at Clicks.
This patented triple action gel formula makes lashes longer, fuller and curvier with just one coat. Contains Aloe and Vitamin B5 to condition lashes. The triple impact brush ensures for smooth and even application where every lash is coated.
User reviews
Almay One Coat Triple Effect Mascara
To be honest, I have never used Almay's makeup before and was surprised when I received this mascara to try. Actually curiosity got the hang of me.
Now the thing that I like most about this mascara is the brush. On the one side the rigid bristles are long and on the other side the bristles are short. I use the product as follow:
1. I use the short side first and hook my brows with it to get some volume going. 2. I then use the long side to lengthen my lashes.
The formula is gel like and creates a shiny black lash. I love that the formula is not too wet nor too dry. It is just perfect.
I like like like this mascara a lot. My lashes are practically non existent and it is hard to find a product that make them look visible, must less long and voluptuous.
I will definitely repurchase this product again!
Product Recommendation
Would you recommend this product to someone else?
Yes
Would you repurchase this product?
Yes
Was this review helpful to you?