Neutrogena Visibly Clear Oil Free Make Up Remover
Hot
June 07, 2011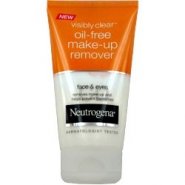 A light, refreshing, non-greasy cleansing fluid which easily removes traces of make-up on the face and eyes whilst cleansing deep into pores to remove oil and excess sebum that could cause blemishes.
User reviews
Visibly Clear Oil Free Make Up Remover
It works well enough but not on waterproof products. I find that it takes of eyeshadow with one swipe, foundation with two, but with waterproof mascara especially, I find myself having to kind of 'soak' my eyelashes in the product. It leaves the skin feeling smooth though, and has a pleasant smell.
Was this review helpful to you?
Neutrogena Visibly Clear Oil Free Make Up Remover
I'm a huge Neutrogena skincare fan and this makeup remover has moved into my top 10 of beauty products.

Firstly, its for both face and eyes and removes stubborn waterproof mascara with ease. I love that it also helps in preventing breakouts and that its oil free. All my skincare products are oil free as I'm prone to breakouts.

This makeup remover leaves skin clean and removes dirt and makeup with over drying and its so gentle around the eye area. It makes the task of cleansing skin that much easier.

It retails for R75 at Clicks which is pretty pocket friendly in my books.
Was this review helpful to you?