SuperStay 14HR Lipstick™
Hot
September 04, 2013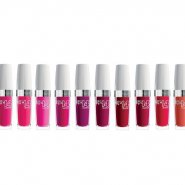 Product Info
Where to Buy
Edgars, Redsquare, Clicks, Foschini.
*14HR Lipstick with an ultra-lightweight formula:

• Stays fresh, light, and comfortable
• Super rich color that lasts for 14 hours
• Pigments are enveloped in a longwearing system
• 20 long wearing shades

*Taken from website
User reviews
Maybelline Superstay Lupstick
This product can be purchased at Dischem at R139.95

I have mine in the shade "150 on and on pink"

I really really like this colour. It's a really dark pink colour and it's also a really intense colour.

Downside of this product:

It's a really dry lipstick, resulting in a matte finish,I like the matte look, BUT It really dried my lips out. It also says on the lipstick that it's 14hr wear, but it isn't. I recommend wearing some lipice over this, to assure your lips don't dry out.

I would say it lasted a few hours, but definitely not 14.

I would buy this again, but only if I'm looking for a matte finish.
Product Recommendation
Would you recommend this product to someone else?
Yes
Would you repurchase this product?
Yes
Was this review helpful to you?
SuperStay 14HR Lipstick™
I came accross this product accidently on Saturday, and I am very glad I did!

When I put it on it felt smooth and creamy, and was increadlibly lightweight. Surprisingly it had a sheer finish, as apposed to the usual matt look, so no gloss was needed. It also smells quite pleasant.

As far as the 14 hour part goes, not quite. I ended up re-applying it 3 times during an average working day (mostly after coffee/meals), which was not too bad, but definitely not 14 hours! But the lipstick never went flakey, which I'm greatlful for.

Overall, I am quite happy with this lipstick!
Was this review helpful to you?