50 Shades of Lustful Lipstick - 2True Colour Drench No. 5
Hot
February 27, 2013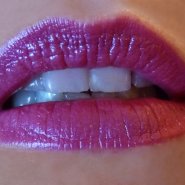 Product Info
Where to Buy
As far as I'm aware Clicks
These stylish new lipsticks are perfect for creating intense, dramatic colour. Not only will your lips look luscious and vibrant, but they will also benefit from moisturising and conditioning properties. Containing Vitamin E and sunscreen, there is no excuse to look anything but lipstick at all times, making these "the" handbag essential for all glamour girls on the go!
User reviews
Recently I was lucky enough to be chosen to review one of the 50 shades of lustful lipstick. I must admit I was meet with some trepidation on opening the cover as the lipstick seems to have an almost grainy look to it, soldiering on I was relieved that it went on quite smoothly, providing ample moisturisation. I'm not entirely sure why it has this look, it may have something to do with the conditioning properties. As I am quite fair I usually shy away from the darker more lustful end of the colour spectrum, however my Mr Grey was most pleased with it, the word vixen was thrown out there, which I am sure was met with a frown and bitten bottom lip. I must say for a budget lipstick I was quite impressed with the level of pigmentation achieved with one swipe, the longevity however is less than to be desired, within 15 to 20 minutes I had already noticed the colour fading. The shade I was given was quite simply called 'No.5'. As far as I am aware there are 5 colours in this range, with No. 5 leaning towards a berry rather than red hue. It has a satin finish which is great for those who are not keen on the high gloss look, but could quite easily be paired with a clear gloss if desired. Another down side was transfer, weirdly it did not stain my teeth 'even during several bottom lip bite tests' but did find its way onto everything and anything else my lips touched, including my Mr Grey, leaving him rather grumpy.

On the whole I would say it is worth a try, especially if you don't mind reapplying a couple times and have a Mr Grey who doesn't mind you leaving your mark on him. It would be aptly suited for those on a tight budget looking for vibrant, well pigmented lustful lips.
Was this review helpful to you?