Yardley Stayfast Supershine Lipgloss
Hot
May 14, 2014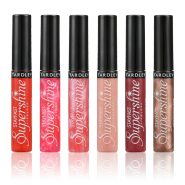 Product Info
Where to Buy
Dischem - The price ranges between R60 - R70
The quickest way to get that long-lasting shine.

User reviews
Yardley Supershine Lip Gloss in California Kiss
Love this product. I bought it on sale at Clicks for R30 and I am very happy. I'm a lipgloss kinda girl and have about 7 in my handbag at any given time but this is the one that I have been reaching for since buying it. It really does last a long time as long as you aren't eating with it on and expecting it to still last. The colour is subtle and works great over a lipstick as a gloss as well. When this one is done, I will definitely be replacing it.

Yardley Stayfast Supershine Lipgloss
The Yardley Stayfast Supershine Lipgloss is a moisturising, long lasting lipgloss range consisting of 6 vibrant shades: Rocking Red, Playful Plum, Rush Hour, Glamour Girl, California Kiss and Perfect Pout.

I bought my 9ml tube (Glamour Girl) on offer at Clicks and I have not regretted the purchase. The gloss had a slight fragrance to it but it was not overpowering. It applied smoothly onto my lips, though it was a bit sticky. I didn't mind about this. It had a natural high shine finish on my lips and great for everyday wear as it is comfortable on the lips.

Yardley Stayfast Supershine Lipgloss
This lip-gloss moisturizes and adds a shimmer of colour to your lips. It is available in various shades.