Softlips Classic Range 2g
Hot
January 29, 2021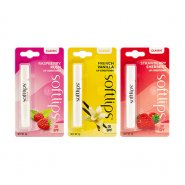 Product Info
Where to Buy:
Purchase online at
https://www.softlipssa.co.za/
Price:
R34,95
Softlips Classic Range features unique flavours that leave your lips feeling moisturised and soft. Available in French Vanilla, Raspberry Rush, and Strawberry Sherbert, the Softlips Classic range features a unique glide on formula that can be worn over and under lipstick/gloss for prevention of staining and/or moisture loss. Softlips won't melt in the sun and has an SPF 20 factor that ensures lips stay protected from UVA and UVB rays.
User reviews
Softlips tint
I was influenced by the influencers whi were selected for testing this product to try it.. I bought one and me being someone who values the effectiveness of spf, i really loved it. It leaves the lips moist and soft. ???
Product Recommendation
Would you recommend this product to someone else?
Yes
Would you repurchase this product?
Yes
Was this review helpful to you?